This is a wiki about Halloween that anyone can edit. No matter what the date is in the real world, it's always Halloween here! Join us and help grow the wiki!
We also have a sister wiki in Chinese.

Announcement:
We welcome the creation of new articles and the editing and expansion of existing articles but please don't just copy text word-for-word from Wikipedia, other wikis, other websites or anywhere else. Please write in your own words. We would like all material here to be original. Thank you.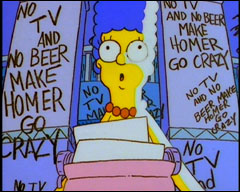 "Treehouse of Horror V" is a Halloween-themed episode from the sixth season of the animated comedy series The Simpsons. It was first broadcast in the United States on the Fox Network on October 30, 19994. In common with the Simpsons Halloween specials from 1990, 1991, 1992 and 1993, it is made up of three self-contained stories and features an appearance by the aliens Kang and Kodos. Unlike the previous specials, there is no framing device which connects the three stories. The special is also notable for containing more graphic violence than the ones from previous years. A darkly humorous running gag in the show involves the character Groundskeeper Willie getting murdered by being hit in the back with an ax in all three stories.
The three segments which make up the episode are "The Shinning", "Time and Punishment" and "Nightmare Cafeteria". The first segment is a parody of Stephen King's 1977 horror novel The Shining and Stanley Kubrick's 1980 movie of the same name. The second segment is primarily based on Ray Bradbury's 1982 science fiction short story "A Sound of Thunder". The title of the third segment references the short lived 1980s American horror comedy TV series Nightmare Cafe.


The full radio play The War of the Worlds, originally broadcast on October 30, 1938



What is your favorite part of Halloween?

Create blog post
Blogs
Here are the 31 outfits I made on Shoplook all month long on October.

Witch

Angel

Devil

Vampiress

Ghostly Couple

Fairy

Princesses

Little Red Riding Hood
Little Red Riding Hood (Gothic)
'20s Flapper
'30s Great Depression woman
'40s World War II lady
'50s sock hop…

Read more >
See more >
Community content is available under
CC-BY-SA
unless otherwise noted.