Betty Boop's Hallowe'en Party is a Halloween-themed short black and white animated movie. It was produced by Max Fleischer and directed by his brother Dave Fleischer. As its title indicates, it stars the Fleischer brothers' famous character Betty Boop, a cute and sexy young woman who enjoys singing and with whom most other characters in the Fleischers's cartoons cannot help falling in love. It was first released in the United States on November 3, 1933.
In the cartoon, a vicious gorilla disrupts the Halloween party being held at the house of Betty Boop. Fortunately, when the lights are turned out, supernatural beings appear which attack the gorilla and drive him away.
Plot
The cartoon opens on a chilly Halloween night. Clouds pass in front of the moon, taking on the shapes of a witch on a broomstick, a cat and a bat as they do so, while a scarecrow shivers in the field below. A piece of paper blows into the scarecrow's hand. It is an invitation, telling him that he can come to the Halloween dinner party which is going on at that very moment at Betty Boop's house, although the invitation concludes by telling whoever receives it to bring their own food. The scarecrow makes his way to Betty Boop's house. Betty lets him warm himself by the fire first, before he helps her to decorate the house for the party.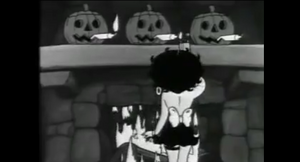 Using cans marked "witch paint' and "cat paint", the scarecrow instantly makes images of witches and cats appear on the walls. Meanwhile, Bett Boop carves jack-o-lanterns with the help of some of her animal friends. She places candles in the jack-o-lanterns mouths as if they were cigars before lighting them. Other guests arrive. Everybody joins in singing "Let's All Sing Like the Birdies Sing" and apple bobbing games are held.
A gorilla with a sock full of sand is seen walking down the street. He uses it to hit an owl, who he mocks for having a funny face, before arriving at Betty Boop's house. Leaning in through the window, he eats all the apples in the apple bobbing tub before drinking all the water in it as well. He then grabs hold of Betty.
When the lights are turned off, ghosts, goblins and demons begin attacking the unwelcome gorilla. When the lights are turned back on again, they disappear. The witches that the scarecrow painted on the wall also come to life and attack the ape by throwing pumpkins at him. A black cat is seen turning the lights off and on several times, making the supernatural creatures appear, attack the gorilla, disappear and reappear again. The frightened gorilla flees in terror. The black cat removes its mask and reveals that it is Betty Boop herself.
External links
Community content is available under
CC-BY-SA
unless otherwise noted.