Costumes are a big part of Halloween.
Be what you want... or what you're scared of... or just something entertaining. Many people use Halloween as an opportunity to be what they can't or wouldn't even want to be in their normal life.
Many costumes have different variations: scary, sexy, cute, old-fashioned, heroic, or specific colors. So, although the witch costume is listed below under scary, it could have an eighteenth century version, a sexy version or a cute child's version.
Scary
Scary movie costumes include:
Traditional Scary costumes include:
Links to the stories and related costumes: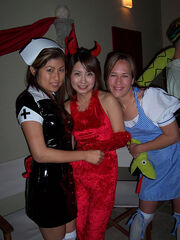 Mythical
Characters
Characters from popular movies or shows... trendy, so tend to change from year to year.
Trademark characters. Cartoon characters.
General cartoon characters
Superhero characters
Peanuts cartoon characters
from the Harry Potter series
from Goosebumps
from Super Mario
from the Wizard of Oz...
from Alice in Wonderland
from the Star Wars series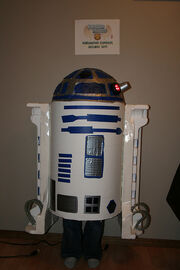 from the Star Trek series
and many others
Fairytales
Oddball or not normal life
Anything can become a costume -- Halloween related, or totally unrelated. Children can dress in adult, professional clothing; adults can dress as children or teens or in professions totally unlike their everyday life. The careers may be perfectly normal, but the costumes are usually caricatures or inappropriate in some way.
Famous people
Sexy
Sexy costumes are often variants of
Food
Animals
Nature
Things
Other holidays
See also
Other resources
There is also a (relatively empty) wiki on Halloween Costumes. And there's a Costume wikia -- mostly for homemade costumes for children. It has over 100 articles.
Anna's Halloween Costume Blog has costume ideas, picture, information about costume trends and more.
Community content is available under
CC-BY-SA
unless otherwise noted.