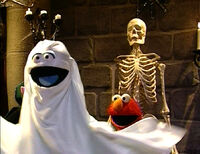 Elmo Says BOO! is a short film featuring Sesame Street characters which was released direct-to-video in time for Halloween 1997. It was directed by Emily Squares and written by Emily Perl Kingsley and Annie Evans. It features puppetry by Kevin Clash, Jerry Nelson and Frank Oz. The film contains some new material along with segments which had previously appeared on television on Sesame Street episodes.
The film was not rated by the Motion Picture Association of America but was given a U certificate (short for "Universal", meaning "suitable for all" and roughly equivalent to an American G) by the British Board of Film Classification.
In the movie, the little red furry monster Elmo goes to visit the Transylvania castle of Count von Count. The two plan to tell each other jokes about things that go bump in the night. The Count's castle is also home to ghosts, a skeleton, a living painting (the Groan-a Lisa), a living suit of armor and the Count's many pet bats. Elmo is initially scared by what he sees in the castle but the Count assures him that there is no need to be.
Other segments in the film feature the Sesame Street characters Baby Bear, Rosita, Joey and Davey Monkey, Bert and Ernie, Frazzle, Steve D' Monster, Little Chrissy, Maurice, Telly, Kingston Livingston III, Harvey, Kermit the Forg and Clancy. The actress Julia Roberts also appears, as do various children who interact with the puppet characters.
See also
External links