A fairy is a magical being. In Western popular culture, they are generally considered to be good, but in older fairy tales, they were sometimes mischievous or even had an evil agenda.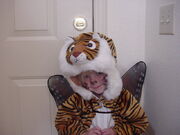 See also
External links
Wikipedia's article on fairy
Emma Davies' Fairy Name Generator - enter your name to find out your fairy name (and wing color, and...)
Community content is available under
CC-BY-SA
unless otherwise noted.