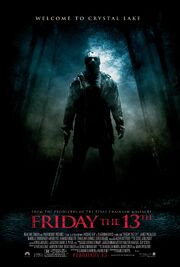 Friday the 13th is a 2009 horror slasher film. It is a remake of the 1980 movie, Friday the 13th. It was directed by Marcus Nispel and written by Damian Shannon and Mark Swift. It stars Jared Padalecki as Clay Miller, Amanda Righetti as Whitney Miller, and Derek Mears as Jason Voorhees. The movie is mainly about a group of teens entering the closed down Camp Crystal Lake, where they have an encounter with Jason Voorhees.
The movie was a box office success. It was made on a budget of $19,000,000 and earned more than $91,000,000, making more than the original Friday the 13th and the 1978 movie Halloween.
The Motion Picture Association of America gave the film an R rating for strong graphic violence and gore, scenes of a strongly sexual nature, bad language and references to drugs.
The movie has not had any sequels yet, but a new sequel is currently in development hell.
External links