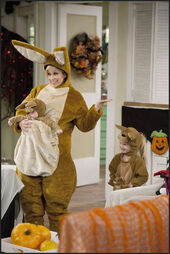 "Le Halloween" is a Halloween episode of the live-action TV series Good Luck Charlie. It first aired in the United States on the Disney Channel on October 7, 2012.
Created by Phil Baker and Drew Vaupen, the show was intended to appeal to the entire family, not just children as with most Disney Channel shows. Set in Denver, Colorado, the show follows the Duncan family - husband Bob, wife Amy, and their three children Teddy, Gabe, and newborn Charlie. A video diary formed a centerpiece that tied all of the episodes together which showcased advice involving their family dynamic as well as Teddy's life as a teenager, who was the recorder of the diary. Each diary is further tied into the rest of the show by having some character - usually Teddy though not always - telling the future Charlie who would no doubt later watch these videos, "Good luck, Charlie".
The show lasted for four seasons.
Plot
Since it is Toby's first Halloween, Amy convinces Bob to dress up. To do her part, Amy dresses up like a kangaroo, complete with a pouch for the youngest Duncans to ride in. However, Bob disappoints Amy by simply wearing a cape over his work clothes. Meanwhile, Teddy asks PJ for a favor, and he agrees. Unfortunately, Teddy's plan does not quite work out, and leaves her very upset with Spencer.
See also
Community content is available under
CC-BY-SA
unless otherwise noted.