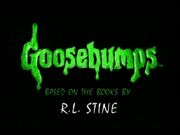 Goosebumps is a TV show based on the original series of books and its sequels. It was a big hit with children, just like the books. It was said to be scary for children but not really for adults. It lasted for four seasons in the 90s but ran again as a decade anniversary in the 2000s.
Episodes
Carly Beth Caldwell has been getting picked on everyday at school for being a scaredy-cat. But, when a new Halloween store opens she buys a new mask but has no idea that it is haunted.
"The Haunted Mask: Part 2"
After putting on the mask, Carly Beth and her friend Sabrina go trick-or-treating on Halloween night. Throughout the night, Carly Beth changes, having a quick temper and becoming violent. Then, the mask will not come off of her and she needs to find help before midnight.
"The Cuckoo Clock of Doom"
Michael Webster always gets into trouble, mainly because of his little sister Tara, who always picks on him and lies to his parents to get him in trouble. But then, his dad gets an old clock and he warns them both not to touch it, but Tara touches it and almost gets into trouble, the Michael messes up the clock to get her and trouble, and he changes time and it turns into a nightmare.
"The Girl Who Cried Monster"
Lucy loves to scare her little brother with her spooky stories, and he always falls for the stories. One day Lucy goes to the library and she finds out that the librarian is actually a monster who eats bugs. Then, he sees her, and she runs home, and he tries to attack them, then Lucy's parents turn into vampires and scare him away.
"Welcome to Camp Nightmare, Part 1"
Billy is sent to summer camp, but when his friends start disappearing he is forced to investigate. He soon discovers that there are creatures lurking in the woods every night.
"Welcome to Camp Nightmare, Part 2"
The camp counselors have announced a manhunt against one of the girl campers, leaving Billy to attempt to get his vengeance against them.
Community content is available under
CC-BY-SA
unless otherwise noted.