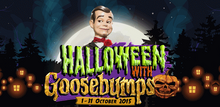 Despite every Goosebumps book being suitable reading for Halloween, only a few books in the series take place on Halloween. Here is a list of Goosebumps books that took place on Halloween.
Goosebumps
The Haunted Mask
The Haunted Mask II
The Headless Ghost
Attack of the Jack O' Lanterns
Werewolf Skin
Give Yourself Goosebumps
Please Don't Feed the Vampire!
One Night in Payne House
The Curse of the Cave Creatures
Trick or...Trapped
Tales to Give you Goosebumps
Still More Tales to Give you Goosebumps
Goosebumps Series 2000
Headless Halloween
Full Moon Fever
Goosebumps HorrorLand
The Scream of the Haunted Mask
Weirdo Halloween
Goosebumps Hall of Horrors
The Five Masks of Dr. Screem
Goosebumps Most Wanted
Wanted: The Haunted Mask
Zombie Halloween
Trick or Trap
The Haunter
Community content is available under
CC-BY-SA
unless otherwise noted.