Jurassic World: Dominion Dominates Fandom Wikis - The Loop
Play Sound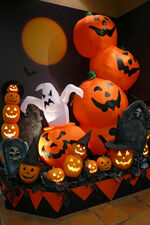 Halloween (sometimes written in the older form Hallowe'en, especially in the United Kingdom; also known as All Hallows' Eve) is a holiday celebrated each year on October 31. It is most popular in the United States, Canada, the Republic of Ireland, and the United Kingdom. It is the holiday on which Americans spend the second largest amount of money each year, after Christmas, and the holiday on which the British spend the third largest amount, after Christmas and Easter. People in other countries are often aware of Halloween, largely due to the influence of movies and television shows from the United States and other items of American popular culture, but may not celebrate it.
Halloween evolved out of the ancient Celtic festival of Samhain, when it was believed that the spirits of the dead returned to roam Earth. It was once widely believed that ghosts were loose on Halloween and that it was a night of revelry for witches and wizards. Consequently, Halloween has become associated with monsters, such as werewolves and vampires, and things that go bump in the night in general.
Popular activities for Halloween include carving jack-o-lanterns out of pumpkins, apple bobbing, eating candy corn, telling ghost stories, visiting haunted house attractions, watching horror movies, and holding parties. The guests at a Halloween party usually wear costumes. For many children, the highlight of Halloween is going trick-or-treating, which involves putting on costumes, knocking on neighbors' doors and receiving candy.
This wiki should give you some ideas for how to celebrate Halloween and also give you some further information on some of the scary things associated with it.
See also
WikiNode for links to other Halloween-related websites