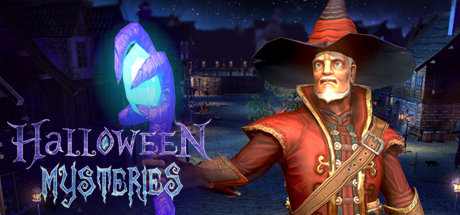 Halloween Mysteries is a 2016 action-adventure hack n' slash video game developed by Vyacheslav Ozolnieks, Andrey Omelchenko, and Andrey Kashin. It is published by Vyacheslav Ozolnieks and became available for purchase on Steam on December 5, 2016.
Objective
Your goal is to catch up to the demon who has stolen your magical gem as well as collect the other gems that have also been stolen that night and save your hometown from the terror of this fiend.
Gameplay
Like other Diablo-clone hack n' slash, the game features a 3/4ths top-down view. The player fights various Halloween-themed creatures while exploring their hometown and trying to catch up to a character who occasionally taunts them. They must unlock gates to move on to new areas, collect treasure and gain experience to level up and increase your stats and magical abilities, and fight bosses.
Plot
One late Halloween night, a mage known by the name of Saref was awakened by some rustling noises in his room. When he opened his eyes, he saw an ugly little devil stealing a magic stone from the table. Saref tried to catch the thief and save the crystal but suddenly looked out the window and saw terrible things… Everything was burning, seething; the fearful monsters, which until recently were the festive decorations, roamed the streets and swept everything out of their paths... People ran in horror to hide in their homes and board up all windows and doors. Chaos and destruction flourished in the town. The dark forces broke free and turned everything upside down. Now Saref must win his magic stone back and overcome the minions of evil before this magic night ends. But the monstrous creatures and demons on your path won't surrender that easy…
Reception
As of October 25, 2019, the game has received mixed reviews from 17 customers.
External links
Community content is available under
CC-BY-SA
unless otherwise noted.