Enjoy a virtual Halloween on our wiki 365 days a year. No matter what the date is in the real world, it's always October 31 here!
Anyone can edit this wiki. Before you start editing, please read our rules to make sure that your experience as an editor here is as enjoyable as possible. Join us and help the wiki grow!
We also have a sister wiki in Chinese.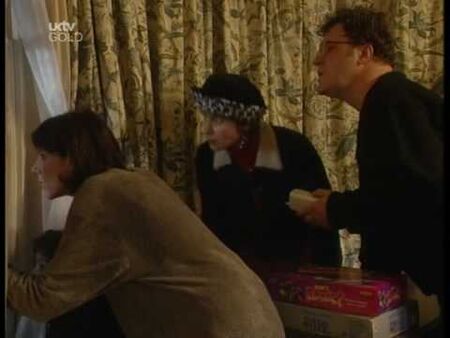 "The Lady Vanishes" is a Halloween-themed episode from the sixth season of the British sitcom 2point4 Children. Although the action takes place on Halloween, the episode was first broadcast on BBC 1 almost a month after the holiday on November 21, 1996.
The series is based around the character of Willemina Porter (better known as "Bill"), her husband Ben Porter, their teenage children Jenny and David, Ben's work colleague Christine and Bill's friend Rona. Bill is usually much more sensible than her somewhat immature husband Ben (who may be child 0.4 referred to in the title). However, she sometimes jumps to wild conclusions that can have serious consequences. The Porters often find themselves in very strange situations and appear to live in a world where almost anything can happen.
In the episode, Bill, who is already nervous because David is out delivering pizzas on what looks like being a stormy weekday night, becomes convinced that she is living next door to a vampire, possibly Count Dracula himself. When she finds out that her son is in the neighbor's house, she, Rona, Ben and Christine determine to break in, defeat the vampire and rescue the boy.


The full radio play The War of the Worlds, originally broadcast on October 30, 1938




Blogs
It's finally October! Spooky season is here! Halloween is right around the corner, although everyday is Halloween in October! Happy Halloween!!!!!!!
🎃🎃🎃🎃🎃🎃🎃🎃🎃🎃🎃🎃🎃🎃🎃🎃🎃🎃🎃🎃🎃🎃🎃🎃
See more >