Enjoy a virtual Halloween on our wiki 365 days a year. No matter what the date is in the real world, it's always October 31 here!
Anyone can edit this wiki. Before you start editing, please read our rules to make sure that your experience as an editor here is as enjoyable as possible. Join us and help the wiki grow!
We also have a sister wiki in Chinese.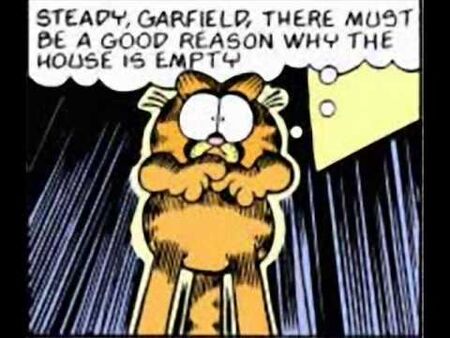 "Halloween 1989" (or "Garfield Alone") refers to a series of six highly unusual Garfield comic strips that first appeared in newspapers between Monday October 23 and Saturday October 28, 1989.
The Garfield comic strip was created by the American cartoonist Jim Davis. The first Garfield strip appeared in forty-one newspapers in North America on June 19, 1978. It is now the most widely syndicated comic strip in the world, appearing in more than two thousand five hundred newspapers and magazines in many different countries and territories. The strip's title character is a fat, lazy striped orange cat. Garfield loves sleeping, watching television and eating lasagna. He hates Mondays and spiders. Other major characters in the strip are Garfield's owner, a somewhat eccentric and socially awkward man named Jon Arbuckle, and Jon's other pet, a dim-witted dog named Odie.
The six strips which were first published on the week before Halloween 1989 are unlike any other Garfield comic strips because they are not supposed to be funny. Instead, they are intended to be frightening. They present a storyline in which Garfield suddenly finds himself in a future in which Jon and Odie no longer exist. The cat is left completely on his own and without any food in a house which has long since been abandoned. Jim Davis has said, "During a writing session for Halloween, I got the idea for this decidedly different series of strips. I wanted to scare people. And what do people fear most. Why, being alone."

The full radio play The War of the Worlds, originally broadcast on October 30, 1938



Blogs
October 31, 2022
Days: 139
Weeks: 19
Months: 4
HAPPY HALLOWEEN! 🎃🎃🎃🎃🎃🎃🎃
See more >