This is a wiki about Halloween that anyone can edit. No matter what the date is in the real world, it's always Halloween here! Join us and help grow the wiki!
We also have a sister wiki in Chinese.

Announcement:
We welcome the creation of new articles and the editing and expansion of existing articles but please don't just copy text word-for-word from Wikipedia, other wikis, other websites or anywhere else. Please write in your own words. We would like all material here to be original. Thank you.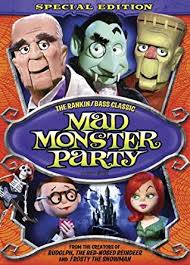 Mad Monster Party? (the title appears with a question mark in the film's opening credits) is an American stop motion animation film from from Rankin/Bass Productions. It was originally released on March 8, 1987. The script was written by Arthur Rankin Jr. with Leon Korobkin and Harvey Kurtzman of Mad magazine. Many of the puppet characters were designed by Mad magazine artist Jack Davis.
The party that is referred to in the movie's title is held by the mad scientist Baron Boris von Frankenstein at his home on a tropical island. The Baron throws the party in celebration of his discovery of "the secret of ultimate destruction", a formula which gives him the power to destroy anything and everything. The guests at the party include many of the world's most famous monsters, as well as the Baron's unassuming nephew Flankin..
The film features the voices of Boris Karloff as Baron Boris von Frankenstein, Phyllis Diller as the wife of Frankenstein's monster, Gale Garnett as Baron Frankenstein's beautiful assistant Francesca and Allen Swift as all other characters. Many of the voices that Swift provided were based on those of famous Hollywood actors.


The full radio play The War of the Worlds, originally broadcast on October 30, 1938



What is your favorite part of Halloween?

Loading RSS data...

Create blog post
Blogs
As of at least 2 hours and 11 minutes ago, October has officially arrived! Which means that only 30 days are left untill Halloween. Let the spooking commence!

Read more >
See more >