Maybe you didn't have much of a Halloween in real life last year. Maybe you're worried you won't have much of one this year either. Cheer up! You can still enjoy a virtual Halloween on this wiki. And no matter what the date is in the real world, it's always Halloween here!
Anyone can edit this wiki. Before you start editing, please read our rules to make sure that your experience as an editor here is as enjoyable as possible. Join us and help the wiki grow!
We also have a sister wiki in Chinese.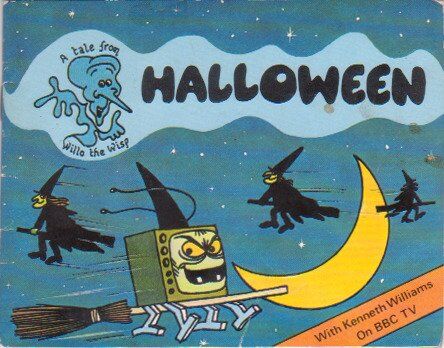 "Halloween" is a Halloween-themed episode from the first season of the British animated children's television series Willo the Wisp. It first aired in the United Kingdom on BBC 1 at 5:25 pm on October 30, 1981.
The series takes place in a forest named Doyley Wood. It is home to the ghost-like title character (who usually only appears as a narrator), a plump fairy named Mavis Cruet, a Cockney caterpillar named Arthur and other characters. The series' primary antagonist is a wicked witch named Evil Edna who takes the form of a television set with a "rabbit ears" antenna. Evil Edna often threatens to turn the other characters into frogs and sometimes makes good on her threats. All characters are voiced by Kenneth Williams.
In the episode, it is revealed that Halloween is also Evil Edna's birthday. Mavis Cruet conjures up a present for the wicked witch but Evil Edna plays a cruel trick on Mavis and her friends. Unfortunately for Edna, Mavis' magic only works as long as her friends keep thinking pleasant thoughts.


The full radio play The War of the Worlds, originally broadcast on October 30, 1938




Blogs
It's finally October! Spooky season is here! Halloween is right around the corner, although everyday is Halloween in October! Happy Halloween!!!!!!!
🎃🎃🎃🎃🎃🎃🎃🎃🎃🎃🎃🎃🎃🎃🎃🎃🎃🎃🎃🎃🎃🎃🎃🎃
See more >