Want to throw a Halloween party?
Halloween parties can be hosted privately or by community groups, such as a local youth center, club, or school. Some parents consider parties the safest way to celebrate, although many kids and teens still prefer to trick-or-treat. And adults sometimes enjoy the excuse to dress up in costumes, which are mandatory for most parties.
The best parties are usually ones with a central theme, which also helps the planners make decisions about food, decor, and music. Common themes include "haunted mansion", "horror movies", "movie monsters", and "mad scientist' laboratory".
Food
If you will be cooking for your party, check out the Halloween Recipes Category on Recipes Wiki. Generally creepy, gross, or theme-matching food is the norm. There are thousands of recipes for normal food with creepy flair to choose from all over the internet. Half the fun is to get creative with labeling the food, although other gimmicks can include:
Activities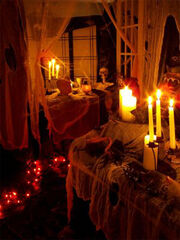 Sleepovers are common for the tiny goblins, along with family-friendly projects like:
Some more adult activities include
Costumes
Dressing up is part of the fun for many Halloween parties. There are many costume ideas from which to choose. It is up to the party planners if the guests should come in theme-appropriate costumes, the costume of their choice, or no costumes at all; Kids usually dress up freely without any themes.
External links