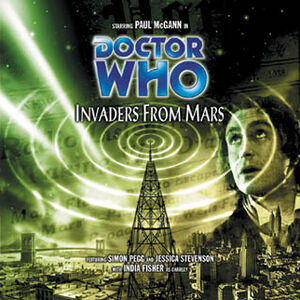 Invaders from Mars is an original Doctor Who audio play published by Big Finish Productions in 2002. Written by horror aficionado Mark Gatiss, it stars the Eighth Doctor and companion Charlotte "Charley" Pollard and centers around the 1938 Halloween Orson Welles production of The War of the Worlds. It is one of the few Doctor Who stories in any medium to be explicitly set on Halloween itself.
According to the play, the widespread American panic following Welles' radio drama was not entirely without justification. As Welles' famous radio drama aired, a meteorite carrying actual aliens did in fact land in upstate New York. Naturally, the Doctor and Charley have to counter this threat. By the end of the adventure to stop these aliens, the Doctor has used the CIA, the FBI, the CBS network, several actors, major features of the city of New York, Orson Welles himself, and even the War of the Worlds radio play to his advantage.
Unlike other forms of audio Doctor Who, Invaders from Mars is not available on iTunes, but can be downloaded directly from the Big Finish website. It can also be listened to for free and legally on Big Finish's official Spotify account.
See also
External links
Community content is available under
CC-BY-SA
unless otherwise noted.