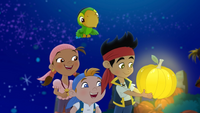 "Night of the Golden Pumpkin" is a Halloween episode of the animated series Jake and the Never Land Pirates.
A Disney Junior show based on the Disney universe's Peter Pan adapted from the original book by J.M. Barrie and co-developed by Bobs Gannaway, Jake and the Neverland Pirates takes place after the events of the saga sequel, Return to Never Land. It follows the adventures of a small band of young pirates, consisting of Jake, Izzy, Cubby and their parrot Skully as they compete against the dreaded Captain Hook and Mr. Smee for various treasures on the island. They are often accompanied by other, allied pirates as well as their living pirate ship Bucky and a mermaid named Marina.
Plot
It is Halloween and Jake and his crew are going to Never Land to search for the golden pumpkin. Captain Hook also wants to go after the golden pumpkin. Will Jake and his crew make it to the pirate pumpkin patch before Hook and his crew sneak away with the Golden Pumpkin?