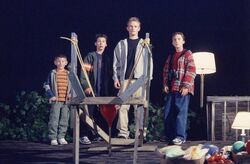 "Halloween Approximately" is a Halloween themed episode of the TV sitcom, Malcolm in the Middle. It originally aired on the Fox network in the United States on November 8, 2000.
Plot
Brothers, Reese, Malcolm, and Dewey are upset about the past Halloween. On previous Halloweens, they always played pranks on the people in their town with their oldest brother, Francis. Unfortunately, due to a prank Francis pulled on his principal, he is forced to stay in military school for the weekend of Halloween. Reese, Malcolm and Dewey are forced to have an ordinary Halloween that year.
A week later, when Francis comes home, he tells his brothers that they are going to celebrate Halloween a week late. He has a great idea for a prank, where they build a slingshot on their roof and launch things at unsuspecting civilians. The boys go along with it at first, and have a great time with it. Unfortunately for them, Malcolm's friends build an even bigger slingshot, and throw things back at the brothers. The brothers try to ignore them, but soon have no choice but to surrender.
External links
Community content is available under
CC-BY-SA
unless otherwise noted.