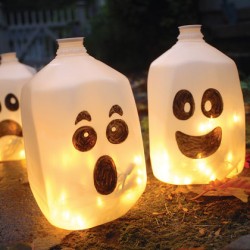 Description
Your milk cartons don't have to be thrown out! Be creative and resourceful by turning your old plastic milk cartons into spooky ghost lanterns for Halloween! Stationed on a walkway or porch, these homemade lanterns will extend a ghostly greeting and good-bye to all your holiday visitors.
Difficulty
Easy
Supplies needed
Plastic gallon milk cartons
Black sharpie (thick ones are the best to use)
Knife or craft knife
String of 25 (or 50) clear (or orange) low-wattage Holiday Lights
Directions
1. Wash and clean and take the stickers off of several milk cartons.
2. Take your black sharpie and draw ghost eyes and mouths on the flat part of jugs. I suggest you leave the caps on while you do this, so the jugs don't dent.
3. Use the knife or craft knife to cut a half dollar-size slit in the back of each jug.
4. Going plug first, stuff your clear or orange (25) lights through the top of your carton, pull the plug through the slit and make sure to put the cap back on.
-OR-
5. Arrange the ghosts near each other and string the lights between them, stuffing several bulbs into each of the cartons.
Additional photos
See also
Community content is available under
CC-BY-SA
unless otherwise noted.