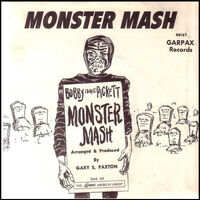 "Monster Mash" is a novelty song released on August 25, 1962 by Bobby "Boris" Pickett[1] and the Crypt-Kickers. The lyrics were written by Bobby Pickett and Lenny Capizzi. It was released both as a single and as a full-length LP known as The Original Monster Mash, containing several other monster-themed songs. The song became #1 on the Hot 100 Chart for October 20-27, 1962 and has been a perennial Halloween favorite ever since. It has been covered by numerous other artists over the years.
Lyrics summary
One evening, a mad scientist named Boris sees the monster that he has created rise from his slab and perform a dance called the Monster Mash. The dance quickly becomes popular with other monsters. Ghouls come to Boris' castle to join in the fun and "get a jolt" from the mad scientist's electrodes.
A party is organized which is attended by zombies, the Wolf Man, Dracula and his son. At the party, Boris' assistant Igor plays the "Monster Mash" song on chains while howling dogs accompany him. The song is also played by bands called the Coffin Bangers and the Crypt-Kicker Five.
Dracula briefly becomes angry because the Monster Mash has overtaken the dance that he created, the Transylvania Twist, in popularity. He soon, however, comes to accept the situation. Boris tells listeners that the Monster Mash is also a dance that living humans can perform. He invites the listeners to come to his castle.
The song ends with the sound of Igor enjoying the dance and Boris calling him a "mad impetuous boy".
Footnotes
↑ The name is a reference to British actor Boris Karloff, who became famous after playing Frankenstein's monster in the 1931 film Frankenstein. In the song's vocals, Pickett imitates Karloff's voice.
Community content is available under
CC-BY-SA
unless otherwise noted.