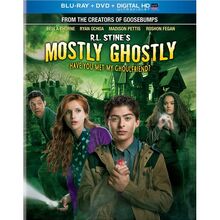 Mostly Ghostly: Have You Met My Ghoulfriend? Is the sequel to Mostly Ghostly: Who Let the Ghosts Out?, the movie was released in 2014, six years after the first film.
Plot
Max Doyle scores a date with Cammie Cahill on Halloween, but Phears hires a berserker Ghoul named Emma to get Max in trouble, so he can capture the Ghost children, Tara and Nicky, so now Max and the ghost kids have to stop Phears from succeeding his goal before his ghoul army takes over the world.
Trivia
Madison Pettis (who portrays Tara) is the only cast member from the first film to reprise her role, the rest of the cast are new actors, this may have been done because since the first film came out six years ago, Sturling Beoumon and Luke Benward were too old to reprise their roles, but Madison was still young enough.
Community content is available under
CC-BY-SA
unless otherwise noted.