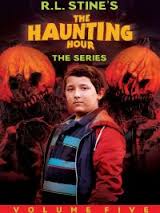 "Pumpkinhead" is a Halloween-themed episode of the American TV series R.L. Stine's The Haunting Hour: The Series. It is the fifth episode of season two. It first aired in the United States on the Hub Network (now Discovery Family) on October 29, 2011.
Plot
Last Halloween, children disappeared. One year later, three children, Scott, Dave, and Allie go to a pumpkin patch to get pumpkins. The owner Mr. Palmer frightens them away. When Halloween approaches, Dave is upset that he cannot go trick-or-treating, and he dressed as a Dead Justin Beiber. The three children go back to the pumpkin patch. Scott disappears, Allie looks for him, and discovers that Mr. Palmer has chopped Scott's head off and turned it into a pumpkin, as he says, "Not quite ripe yet, but it's getting there!"
External links
Community content is available under
CC-BY-SA
unless otherwise noted.