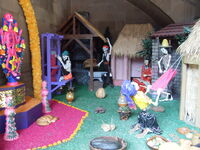 There are multiple holidays with a relationship to Halloween. For some the relationship is primarily due to when they are celebrated; for others the relationship includes some of the customary celebrations, underlying beliefs or sources of the holiday and its celebration. Many different cultures have a "Festival of the Dead", at which time of year it may be believed that ghosts pay a visit to their former homes. Some people may be concerned that mischievous or even evil ghosts are among those who return and carry out rituals to protect themselves. Different cultures have other days on which, according to tradition, witches are abroad and it may be necessary for people to protect themselves from their evil influence. There are other holidays in other parts of the world which are associated with wearing costumes and with trick-or-treat-like activities.
Real world and historical holidays related to Halloween include:
Fictional holidays related to Halloween include:
Community content is available under
CC-BY-SA
unless otherwise noted.