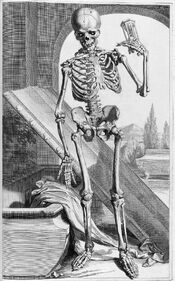 Skeletons are a popular Halloween image. They serve as costume inspiration, decoration, and fodder for scary stories. Skeletons are associated with death, especially long ago death. Most often it is the image of a human skeleton, but sometimes animal skeletons or partial skeletons, such as skulls or other bones are used in imagery and decorations. Skeletons are even more strongly associated with the Mexican holiday El Día de los Muertos (The Day of the Dead), which takes place on November 1. During that holiday, not only can many decorations in the shape of skeletons be seen, but candy and other foods which look like skeletons are eaten as well.
External links
Community content is available under
CC-BY-SA
unless otherwise noted.