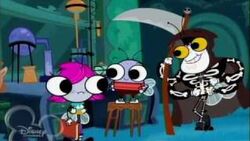 "Scare Wars" is an episode of the animated TV series The Buzz on Maggie that makes suitable viewing for Halloween. It first aired on the Disney Channel in the United States on June 17, 2005.
An American animated TV show airing on the Disney Channel between June 2005 and May 2006, The Buzz on Maggie follows the life of anthropomorphic fly Maggie Pesky and her immediate family, living their lives in the suburban Stickyfeet, a fly city located in a local dump. An attendant of Buzzdale Academy, Maggie is an ambitious tween with aspirations of becoming a rock star whose impulsive, adventurous nature often puts her in jeopardy. This results in slapstick comedy and a minimal level of gross-out humor. Common familial sitcom themes such as sibling rivalry and peer pressure were often used as plot devices, with her ultimately learning a lesson by the end of the episode.
Plot
The Pesky kids attempt to out scare each another and this year Maggie is the target.
External links
Community content is available under
CC-BY-SA
unless otherwise noted.