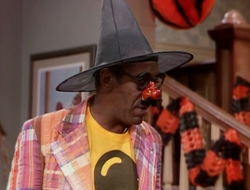 "Halloween" is a Halloween-themed episode of the classic American sitcom, The Cosby Show. It is the sixth episode of the second season of the series. It originally aired on NBC in the United States on October 31, 1985.
The series centers on the life of an upper-middle class African-American family who live in Brooklyn, New York. The family is made up of Dr. Cliff Huxtable (played by Bill Cosby), his attorney wife Clair Huxtable, their grown up daughter Sondra, their teenage children Denise and Theo, their younger daughter Vanessa and their youngest daughter Rudy.
The episode "Halloween" is mainly concerned with the character Vanessa Huxtable and her romantic interest in Robert Foreman, one of the boys from her school.
Plot
Halloween night is approaching. Vanessa Huxtable is hosting a Halloween party. She is excited about the party, because her crush, Robert Foreman is coming, and she is hoping to impress him.
The Huxtables' youngest daughter, Rudy, wearing a pumpkin costume, is looking forward to receiving candy from her neighbors. Her father, Dr. Cliff Huxtable, very reluctantly agrees to accompany the little girl and her two friends when they go trick-or-treating. He protests, at first, that he does not have a costume. Rudy says that she will make one for him. Cliff Huxtable later reappears wearing an improvised costume, made up of a witch's hat, a false red nose with glasses and a mustache, a yellow T-shirt with a large black exclamation mark on it, a pink plaid jacket, a pair of baggy blue pants and yellow sneakers. He and the children return from trick-or-treating with some red and some purple bags. Cliff explains that the purple bags contain candy from people he knows and that it is safe to eat it now. The red bags contain treats from people he does not know and the children's parents will need to check them first.
At Vanessa's party, she and Robert use their friends as messengers between them. The friends discover that Robert has the same feelings for Vanessa as Vanessa has for him. Everything is going well, until Vanessa embarrasses herself in front of everyone by dropping a bunch of glass cups and shattering them all. She runs into her room and locks herself in there.
Vanessa's parents comfort her, and her friends decide to move the party to her. Robert tells Vanessa that he does not think any less of her because of what happened. The two decide to go steady.
External links
Community content is available under
CC-BY-SA
unless otherwise noted.