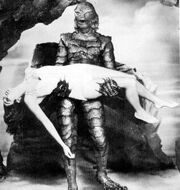 The Creature of the Black Lagoon (aka The Gill-man) is the main monster character of Creature from the Black Lagoon, the 1954 science fiction horror film and its sequels. It has also made appearances in movies such as The Monster Squad (1987) and as a background character in Monster High as the father of Lagoona Blue. Due to its stature as one of Universal Studio's famed monsters, it has made a wide number of cameo appearances in media across the board over the 60+ years since its debut.
Background history
The origin of the Gill-man is nebulous at best, with two possible theories known. The first and most widespread theory, as proposed by Dr. Thompson, is that the Gill-man discovered in 1954 was the last surviving member of a species that evolved during the Devonian Age and by the modern age was only found in the Black Lagoon, located deep in a previously hitherto unexplored Amazon Rainforest. These creatures were descended from an extraterrestrial race that had visited the planet Earth during those early years. Another theory is that the creature is the result of severe pollutants into the Amazon by a pharmaceutical corporation, who had been exploiting the rainforest.
The creatures of such a man-fish were known to the local native tribes.
Events of the film
In the movie, scientist Dr. David Reed and his girlfriend Kay Lawrence go to the amazon after a fossil of the Gill-man's hand is found. What they don't know is that the actual creature lurks beneath the Black Lagoon. The Gill-man has an interest in Kay and tries to bring her to his lair and kill anyone who gets in his way. After David's boss Dr. Mark Williams is murdered by the Gill-man, they try to escape but are trapped in the lagoon. The Gill-man snatches Kay underwater and he takes her to his lair. David goes to rescue Kay from the Gill-man but almost gets killed by the creature himself, luckily Dr. Carl Maia and Lucas enter the cave and shoot at the Gill-man, and the creature retreats back to the Black Lagoon and passes away in the water.
Movies
The Gill-man has appeared in three films. Creature from the Black Lagoon (1954), Revenge of the Creature (1955), and The Creature Walks Among Us (1956). The Gill-man also appears in The Monster Squad (1987). A remake of the original Creature from the Black Lagoon movie was planned for many years but has always fell through. The 2017 Oscar winning film The Shape of Water was originally intended to be a new Creature from the Black Lagoon movie, as the creator of the film Guillermo del Toro thought it would be interesting if the Gill-man and the woman would actually be in a romantic relationship.