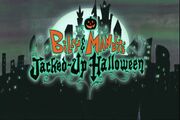 "Billy and Mandy's Jacked-Up Halloween" is a Halloween special of the animated TV series The Grim Adventures of Billy and Mandy. It first aired in the United States on the Cartoon Network on October 31, 2003.
Plot
While out trick-or-treating, Grim tells Billy and Mandy the story of a power hungry practical jokester named Jack O'Lantern. Grim tells how Jack managed to escape death, but at the cost of losing his head. Dressed as the Grim Reaper and armed with Grim's real scythe, Billy stumbles upon Jack O'Lantern's doorstep on Halloween night. Jack manages to steal Grim's scythe, hoping to use its power to seek his revenge. It is up to Mandy to come up with a scheme to save the entire universe and Grim's neck.
See also
External links
Community content is available under
CC-BY-SA
unless otherwise noted.