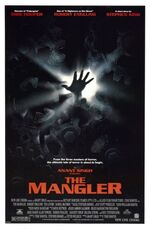 The Mangler is a 1995 American horror film directed by Tobe Hopper. It is based on a short story of the same name by Stephen King which was included in his first short story collection, Night Shift. Robert Englund, who portrayed Freddy Krueger, stars in the film alongside Ted Levine.
The film was rated R by the Motion Picture Association of America.
Plot
A fatal accident occurs in a laundry. Bill Gartly (Robert Englund) is the owner of the laundry, and he takes part in the investigation alongside police officer John Hunton (Ted Levine), and John's brother-in-law, Mark Jackson (Daniel Matmor). It appears that a washing machine got out of control and caused the accidental death. Some staff members give it a horrifying nickname - the Mangler.
To prevented more people getting killed, and beliving that the machine was possessed by a demon, Bill and his friends decide to carry out an excorism on the machine. With the help of Bill's niece, Sherry (Vanessa Pike), they enter the laundry and perform the ceremony on the Mangler. They hope to destroy the machine forever, but the Mangler became a living monster instead of being broken into pieces. Their plans for the machine's destruction give way to a battle for their own survival. Mark is killed by the Mangler. The other three people flee but they fall into the sewer. The Mangler crawls towards them, when suddenly, something from it falls into the water. A strange crying sound, just like the noise from a damage machine, is heard. The machine finally stops. Bill and his friends have finally defeated the demon and lived.
External links
Community content is available under
CC-BY-SA
unless otherwise noted.