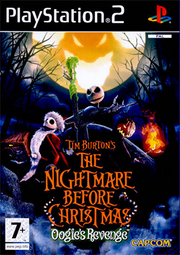 The Nightmare Before Christmas: Oogie's Revenge
is a 2005
video game
based on the 1993 film
The Nightmare Before Christmas
, created by Capcom and released on the Sony PlayStation 2 and Microsoft Xbox. It was released at the same time in North America as
The Nightmare Before Christmas: The Pumpkin King
, but had also been released in Japan the previous year.
The game takes place after the events of the movie as Jack Skellington once again leaves town in search of new ways to improve Halloween. During his absence, Lock, Shock, and Barrel sew Oogie Boogie back together, and Oogie creates an army of evil skeletons in his quest to take over the town. As Jack returns, he realizes what Oogie has done, and ventures through the many parts of the town to put a stop to Oogie's minions. Eventually, Oogie announces his plan to take over all of the Seven Holidays as well, so that "Oogie Boogie Day" can be celebrated seven days every year. When Oogie attempts to kill Santa Clause in Christmas Town, Jack arrives just in time to stop him. Oogie escapes to the Holiday Trash Hill to combine himself with piles of trash and bugs, becoming a mega monster. Jack does battle with this monster and ultimately destroys him, saving Halloween Town and the Seven Holidays.
Community content is available under
CC-BY-SA
unless otherwise noted.