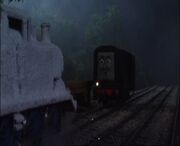 "Flour Power" is a Halloween-themed episode of the British animated TV series Thomas and Friends, based on the Railway Series books by Rev. W. Awdry. The episode first aired in the United Kingdom on the ITV network on December 3, 2005.
Plot
Thomas and Diesel are sent to collect a load of flour for the bakery on Halloween. Diesel tries to scare Thomas when they reach the forest that is on the way to the flour mill by telling him that it is haunted and making spooky noises, but when Thomas accidentally covers himself with flour at the mill, he scares Diesel away instead. On his way to the bakery, Thomas realizes the things that Diesel used to scare him are nothing to worry about. Diesel tells Sir Topham Hatt (the railway's controller) that the ghost engine is after him again, but Sir Topham tells Diesel that the "ghost engine" is only Thomas, who has proved himself once again to be a Really Useful Engine. Thomas cannot wait to tell the other steam engines his Diesel Halloween story.
External links
Community content is available under
CC-BY-SA
unless otherwise noted.