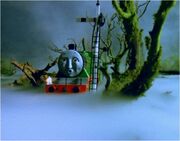 "Haunted Henry" is an episode of the British animated TV series Thomas and Friends, based on the Railway Series books by Rev. W. Awdry, which makes suitable viewing for Halloween. The episode first aired on the ITV network in the United Kingdom on October 3, 1998.
Plot
Henry is working late, and Edward tells him the story of a ghost who appears at full moon. Henry scoffs at the story and sets off with his goods train, but has to slow at an amber signal. After seeing a light flickering at a station and a coat discarded on a tree branch, Henry's crew decide to turn back. The next day, they are shocked to discover that a nearby bridge was unsafe and would have collapsed if they had tried to cross. They try to deliver the goods again that night, but as the trucks see a flickering light they become scared and surge forwards, plunging into a ravine. A few minutes later, Old Bailey the fogman arrives on a handcart and reprimands them for not heeding his warnings. Henry and his crew are sorry, and to thank him for saving them they reopen his station.
External links
Community content is available under
CC-BY-SA
unless otherwise noted.