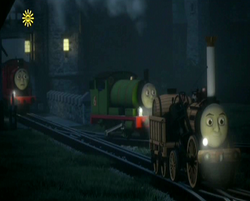 "The Phantom Express" is an episode of the British animated TV series Thomas and Friends, based on the Railway Series books by Rev. W. Awdry, which makes suitable viewing for Halloween. The episode first aired in the United Kingdom on Channel 5 on October 2, 2013.
Plot
One foggy night James tries to scare Percy by telling him that there is a ghost called the "Phantom Express" while he is delivering the mail at Ulfstead Castle. Stephen reassures Percy that there is no such thing as ghosts, but James sneaks up to the castle while delivering coal. He tries to scare both of them by blowing his whistle through some pipes which echo around the castle grounds and make spooky noises. Stephen and Percy get scared and each end up falling into the moat at the entrance of the castle because of the drawbridge being raised up. James travels over the drawbridge, unaware that both are in the moat below. Stephen and Percy decide to whistle for help. James thinks it is the Phantom Express and races away from Ulfstead Castle. After telling Sir Topham Hatt what had happened, James returns with him and the drawbridge is raised up to reveal Percy and Stephen, who are soon lifted out by Rocky. Sir Topham Hatt punishes James by giving him Percy's nighttime mail run for a whole month.
External links
Community content is available under
CC-BY-SA
unless otherwise noted.