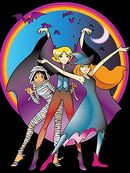 "Halloween" is a Halloween-themed episode of the French-Canadian animated TV series Totally Spies!. It originally aired on the French TV channel TF1 on May 15, 2005 and was first shown on the Cartoon Network in the United States on May 19, 2005.
Plot
Clover is stuck babysitting Chucky, the obnoxious son of her mom's best friend, on Halloween night, but luckily she is able to rope Sam and Alex into hanging out with her so it will not be such a drag. The girls take Chucky trick-or-treating in the eerie gated community he lives in but none of the neighbors seem to be home. They soon find out that a past villain who has a grudge against them has taken over the gated community and turned its inhabitants into ghouls bent on destroying the spies. Can the spies survive the monster attack and turn things back to normal before Chucky's mother gets home? In a sub-plot Jerry is going to his first ever Halloween party and keeps seeking the girls' advice on costumes.
External links
Community content is available under
CC-BY-SA
unless otherwise noted.