My name is Simon Peter Hughes and I come from England. I am one of the admins here at Halloween Wiki and on nine other wikis too.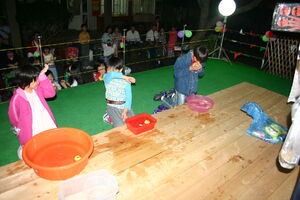 I was born in 1973 in Stratford-upon-Avon, the hometown of William Shakespeare. I have been teaching English as a foreign language since 1997. I have lived and worked in Turkey, Poland and Japan. Since 2003 I have been teaching English to children in a small school in a village in northern Taiwan.
Halloween is my favourite time of the year and has been ever since I was 5-years old. Stories that we don't have Halloween in Britain simply aren't true. It's not such a big deal as it is in the United States or Canada, though.
We have had a Halloween party at my school every year since I arrived in 2003. In 2019 we had a party on Wednesday 30 October. I wore my wizard costume. I read the story Big Pumpkin and asked the children questions about it. If they answered correctly, they got a sweet The children sang Halloween songs, recited poems, did apple bobbing and played other games. For a lot of my students, it's their favourite time of the year too.
Articles I created
Articles I significantly expanded
Babel
Community content is available under
CC-BY-SA
unless otherwise noted.