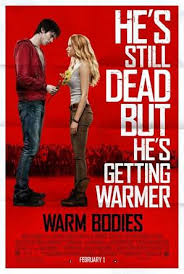 Warm Bodies is a 2013 zombie horror romance movie.
Plot
R is a zombie who does not want to be one. When he falls in love with a human girl named Julie, he and other zombies begin turning human again, but they have to hurry before either the army of the skeleton zombies kill them all.
Cast
Nicholas Hoult as R
Teresa Palmer as Julie
Rob Cordry as M
Dave Franco as Perry
John Malkavich as Julie's father
External links
Community content is available under
CC-BY-SA
unless otherwise noted.